RIB Seats With ISOFIX
ISOFIX is sometimes we get asked a lot for and we are tempted to order all our RIB seats with ISOFIX. But this means increased costs for those who do not need it and we are just not sure that the demand is there. so feel free to let us know your thoughts!
An important consideration for anyone with child seats with an ISOFIX Seat is how it will fit in your camper. Please note that because a RIB seat is usually significantly higher than your standard car seat this will affect how an Isofix base fits.
An ISOFIX base with a leg is unlikely to reach the floor so this will compromise the safety of your seat. It's not a great idea to have to put a block under the seat leg to reach the floor, but that is the reality for some parents if they dont want to change car seats!
A RIB Seat with ISOFIX is best used with a top tether Isofix car seat. If you have ever wondered what this is on the back of your seat then this is where the top tether fabric strap that secures the child seat clips. In Europe this method is often seen in ISOFIX seats, certainly more than the UK.
Now argueably the ISOFIX base is very useful when you have a small baby and are clunk clicking their car seat in and out of the vehicle several times a day. But once they grow out of this seat quite often people will buy a seat without ISOFIX as once the seat is in place it wont get removed.
So just bear in this in mind before you buy your insist that your RIB seat comes with ISOFIX as you may find you need to buy a new car seat to make it work with the top tether.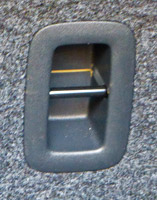 For more information on child seats then this article is worth a read......
http://www.childcarseats.org.uk/types-of-seat/isofix-seats/